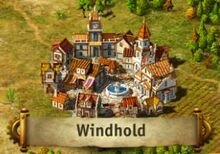 | | | |
| --- | --- | --- |
| " | - Hahaha. Do you really think that you can roll up into my city empty-handed, you upstart? And don't expect me to tolerate those deadbeats with you. You don't have the time or energy to get the necessary resources? There's no place in business for wimps! | " |
| | – Derek Torne | |
Windhold is a City east to Giantfort which becomes available at Level 38 and is located south to Sweethold.
The City
Windhold begins with pre-built Administration and Train Station building and one buildable District.
City unlock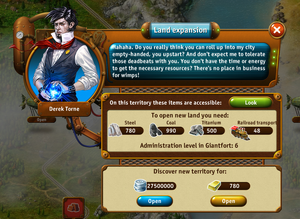 In order to open the city the following requirements must be met:
990
780
500
48
Administration level in Giantfort: 6
City opening price: 27,500 000

or 780

Resources
The city immediately has an access to the following active and passive resources:
1 — dual city resource with Giantfort.

After adjacent territory opening (North), the following resource will become available:
Active Resources

Farm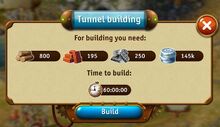 There can be built passenger routes to Sweethold and Giantfort1 both by land.
1 — Requires both a bridge and tunnel construction.
Territories
There is one adjacent territory. C6 which is north of the city (which is avilable at level ??).
Quests