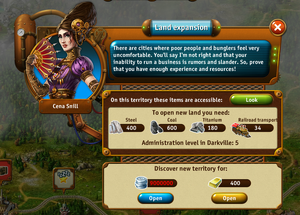 "There are cities where poor people and bunglers feel very uncomfortable. You'll say I'm not right and that your inability to run a business is rumors and slander. So, prove that you have enough experience and resources!" — Cena Snill
Lastville is a city just to the north of Fineville. It cannot be accessed until level 27, and you need to have 400 steel, 600 coal, 180 titanium, and 34 locomotives. To open the territory, it costs either 9 million silver or 400 gold. The territory also includes a farm, a lumber mill, and an ore mine.
Ad blocker interference detected!
Wikia is a free-to-use site that makes money from advertising. We have a modified experience for viewers using ad blockers

Wikia is not accessible if you've made further modifications. Remove the custom ad blocker rule(s) and the page will load as expected.