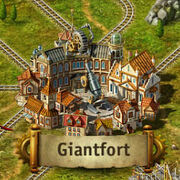 Giantfort is a City east to Wideport which becomes available at Level 34 and is located sount to Craftville.
The City
Giantfort begins with pre-built Administration and Train Station building and one buildable District.
City unlock
In order to open the city the following requirements must be met:
800
600
350
44
Administration level in Shinestad: 6
City opening price: 13,500 000

or 500

Resources
The city immediately has an access to the following active resource:
1 — dual city resource with Wideport.
2 — dual city resource with Windhold.
3 — requires bridge construction

After adjacent territory opening (North), the following resources will become available:

There can be built passenger routes to Craftville and Windhold1 both by land.
1 — Requires both a bridge and tunnel construction.
Territories
There is one adjacent territory. C5 which is north of the city (which is avilable at level 35).
Quests
Build a shopping arcades in Giantfort
Upgrade Giantfort's administration to level 2
Build a road from Giantfort to the coalmine (requires bridge construction)
Build a workshop in Giantfort
Upgrade the workshop in Giantfort to level 2
Upgrade Giantfort's administration to level 7
Complete a standard contract to produce bricks in Giantfort
Build a stock market in Giantfort