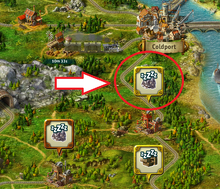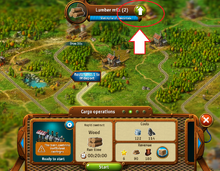 Experts can be used on a level 4 resource of the appropriate type (Lumber Mill Expert for a Lumber Mill, etc.) to upgrade the mine to level 5. This makes that resource node infinite, so that it doesn't need to be sold and rebuilt or replenished with an Engineer.
You must first collect 10 of a particular expert in order to upgrade a mine to "infinite". First upgrade the mine to Level 4, and then the option to upgrade further will become available. Infinite mines have a yellow border.
The smartest way to use experts is on mines that serve two locations.
Obtaining Experts
Trade contracts - Experts are obtained through trade contracts via the Cyclone Airship. The Cyclone is available at Level 16.
Manager exchange (Mobile & Facebook only) You can also exchange 20 managers of one resource for an expert of the same resource for a fee of 20 crystals (10 crystals on iOS) at the office in Craftville.
When selecting the Office in Craftville, the first tab is for managers (Change a manager into a different kind of manager). The second tab "Experts" must be selected to change 20 managers into an expert for a fee of 10/20 crystals. It is not known when the Windows version will be updated to include this option.
Weekly prizes - At the end of every week, random experts are given as prizes to the top 10 earners of "Reputation" points for each town. (The week ends at midnight GMT on Sunday night). First place receives 5 experts, 2nd to 5th place receive 3 experts, and 6th to 10th receive 1 expert. It is believed these Top 10 lists are different for every version of the game (Windows, Facebook, Android, iOS).
Ad blocker interference detected!
Wikia is a free-to-use site that makes money from advertising. We have a modified experience for viewers using ad blockers

Wikia is not accessible if you've made further modifications. Remove the custom ad blocker rule(s) and the page will load as expected.