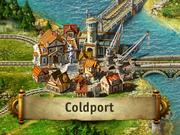 Coldport is the childhood home of the Skytell siblings. Their uncle, Rodd, is the current Mayor. A small municipality located South East of Cross Hill; Coldport rests south of a ford in the river.
The Town
Coldport starts with an Administration, Station, Port, and Shopping arcades. It has three districts for expansion.
Resources
The city immediately has an access to the following active and passive resources:
1 — Requires bridge construction: 5,000

40

40

2:00:00

1,000

2 — dual city resource with Cross Hill.
After adjacent territory opening (North-East), the following resources will become available:
Quests
References
Ad blocker interference detected!
Wikia is a free-to-use site that makes money from advertising. We have a modified experience for viewers using ad blockers

Wikia is not accessible if you've made further modifications. Remove the custom ad blocker rule(s) and the page will load as expected.